Walk & Talk Coaching
You know, when you walk side by side with someone who is listening as you "offload", putting one foot in front of the other and taking fresh air into your lungs against the backdrop of the countryside, things already seem better.
Couple that with the fact the the person listening is a qualified coach, whose job is to listen, not judge, and who will prompt you to find your own brilliant solutions to life's dilemas with well chosen questions to guide the conversation and keep you buoyant, these sessions can really help you clarify what you are dealing with and just how to proceed when you step back into your life.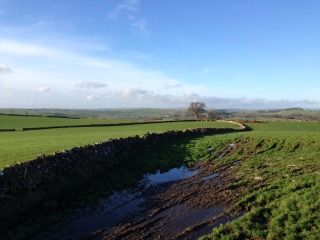 I have worked very successfully with people who, at crisis point, have subsequently (and rapidly) turned their lives right around (we are talking dream career, new home, new partner, new improved relationship with the family - the works!).We can walk as far as you like for as long as you like, in any weather - as long as I can find a pub or tea shop en route! If you want to get stuck in to changing your life, come walk and talk with me. Also, if you have never had any coaching before, this is a great and easy way to start.
"I knew it was the right time for me to leave the Army, but I really didn't know what it was I wanted to go and do next. After 20 years service, I kind of expected to be doing more of the same thing but without the uniform and, to be totally honest, I was waiting for somebody else to tell me what to do. The Resettlement process panicked me a bit, because I felt I was expected to come into it with all the answers, when in fact I had none.

Working with Liz helped me realise that instead of waiting for permission or direction from someone else, I could take control of my own life amd start shaping my own future the way I wanted it. The process of talking to an independent professional about my hopes and fears actually gave me the confidence to make my own decisions and go for it. As a result I became much bolder and stopped worrying about seeking approval from someone else before taking action.
Funnily enough, the coaching process didn't feel like coaching - more a series of natural conversations based around questions I would never have thought to ask myself. The upshot of this was that I became stronger in my decision making and more open to alternative possibilities. My old military mindset has since developed into a free and more natural way of making my own choices. I am now working in a way I would never have considered for myself before, with a salary that far exceeds any previous expectations." - Steve James, Project Manager